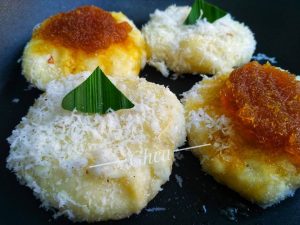 TUMBANG
Tumbang adalah salah satu makanan khas Minangkabau yang bisa dibilang sudah mulai punah dijual. Salah satu penyebabnya adalah mulai banyaknya makanan luar yang datang silih berganti. Selain itu, tidak banyak juga masyarakat yang masih melestarikan makanan ini.
Tumbang dibuat dengan bahan singkong direbus lebih dulu, ditumbuk halus dan dicampur dengan gula serta kelapa yang diparut. Cita rasa yang dihasilakn tentunya lembut, manis dan nikmat. Tumbang dapat dicampur dengan gula aren maupun gula putih atau gula pasir.
---
Tumbang is one of the Minangkabau special food which can be said to be extinct for sale. One of the reasons is the amounts foreign food that comes and turns. In addition, still many people preserve this food.
Tumbang made with cassava ingredients is boiled first, finely ground and mixed with shredded sugar and coconut. The resulting flavors are certainly soft, sweet and delicious. Tumbang can be mixed with palm sugar or white sugar or granulated sugar.