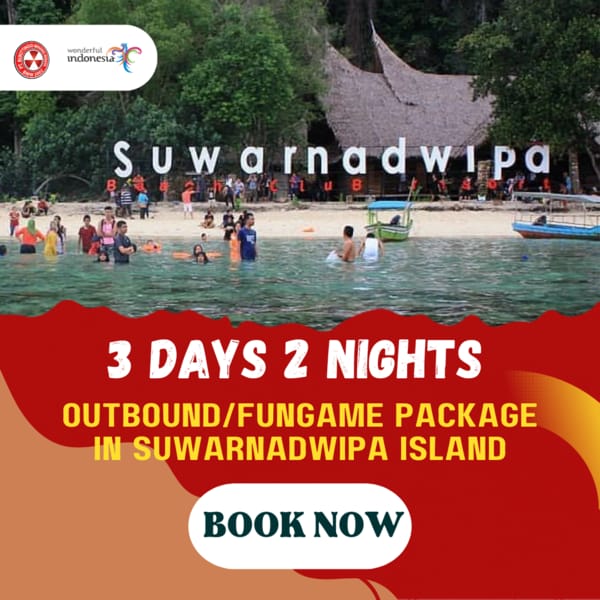 3D2N OUTBOND / FUNGAME PACKAGE IN SWARNADWIPA ISLAND
This is the beautiful Suwarnadwipa Island. the island is pretty much exotic, visitors will be spoiled with special views like shining gold. The atmosphere here is very calm and safe.

White sand with clear sea water plus shady trees on this island makes visitors feel connected with nature after enjoying each blowing sea breeze that greets them.
---
Day 1 : AIRPORT – PULAU SUWARNADWIPA – PADANG (L/D)
 Your arrival at Minangkabau International Airport will be greeted by  a service from our professional representative with a welcoming songket scarf

Photo session at Minangkabau Airport sign

Proceed to Bungus

Crossing towards Suwarnadwipa Island

Briefing, stretching, safety induction

Outbound, Immersion: Ice Breaking, Yelling, Grouping, Water break, Lunch and praying

Mid Skill:  Outbound Team Building by choosing a theme by company

Effective Communication Games

High Impact: Continuing next section of outbound (Team Building, Leadership, Problem Solving) adjusted by need

Final Project, Closing

Back to the dock of Bungus

Towards to Padang

 City Tour Padang, visiting Siti Nurbaya Bridge, Old Harbor, China Town

 Dinnner at Pondok Ikan Bakar Khatib Sulaiman

 Check-in to the Hotel
Day 2 : PADANG – BUKITTINGGI (B/L/D)

After Breakfast, check out from the Hotel

Visiting Raya Sumbar Mosque and photo session

Towards to Padang Panjang and visit Lembah Anai Waterfall

Photo Session at Lembah Anai Waterfall

Drives to Batusangkar by Pariangan Village

Lunch at Pondok Flora

Visiting Pagaruyung King Palace and wearing Minang Traditional Cloth (personal)

Stop at Kiniko Home Industry to watch the making of Pisang Salai and Coffee milling

Towards to Bukittinggi

Dinner at a Local restaurant and Check in to the Hotel
Day 3 : BUKITTINGGI CITY TOUR – LEMBAH ANAI – PADANG (B)
After Breakfast, check out from the Hotel

Stop at Ummi Aufa Hakim for shopping, there are some characteristic chips from Bukittinggi

City Tour Bukittinggi, visiting Panorama Park, Sianok Canyon and Japanese Tunnel ( Additional local guide )

Visiting Pasar Atas and Jam Gadang

 Drives to Nasi Kapau Uni Cah for Lunch

Head towards Koto Baru and taste Kue Bika (personal)

Transfer to Airport

Tour Done  ( Conditional )
Package Includes :
Transportation  (AC/VCD/DVD))
Meals as per program  2x breakfast, 3x lunch, 1x dinner
1x special dinner with Live Music
Special Juice
Welcome Songket scarf
Mineral water/botol/pax/hari
Entrance Fee
Insurance
Professional Guide
Outbound Package includes :

Activity area
Activity and character-building processes
Instructure
Equipment activity
Wireless sound system
Team outbound
Crew
Package excludes : 
Flight ticket
Personal expanses
Tipping Driver & Guide
Optional tour
Cultural Show
Drone / Dokumentasi
Rent traditional dress
Local Guide Lobang Jepang and Pagaruyung
---
---
OUTBOND / FUNGAME PACKAGE
Day 1 : AIRPORT – PULAU SUWARNADWIPA – PADANG (MS/MM)
Sampai di Bandara Internasional Minangkabau dan di sambut oleh tour guide kami

Photo session di Kawasan Airport

Perjalanan menuju dermaga Bungus

Sampai di dermaga dan bersiap – siap menyeberang ke Pulau Suwarnadwipa dengan menaiki boat

Briefing, stretching, safety induction

Pelaksanaan Outbound

Immersion : Ice Breaking (Pemanasan), Yelling, Grouping, Water Break, Makan siang, Ishoma, Mid Skill : Pelaksanaan game / Outbound Team Building yang disesuaikan dengan tema dari perusahaan, Effective Communication Games

High Impact : Melanjutkan Materi Outbound sesi selanjutnya (Team Building, Leadership, Problem Solving), disesuaikan dengan kebutuhan perusahaan

Final Project, Closing

Kembali ke dermaga Bungus

Menuju Padang

City Tour Padang mengunjungi Jembatan Siti Nurbaya, Pelabuhan Lama, China Town

 Makan malam di Pondok Ikan Bakar Khatib Sulaiman

Check in hotel
Day 2 : PADANG – BUKITTINGGI (SP/MS/MM)
Sarapan Pagi dan check out hotel

Mengunjungi Masjid Raya Sumatera Barat dan photo bersama

Menuju Padang Panjang untuk mengunjungi Air Terjun Lembah Anai

Photo session di Air Terjun Lembah Anai

Menuju Batusangkar melalui Desa Pariangan

Makan siang di Pondok Flora

Mengunjungi Istana Pagaruyung dan memakai pakaian adat minang (personal)

Singgah di Kiniko Home Industry untuk melihat proses pembuatan Pisang Salai dan Kopi

 Menuju Bukittinggi

Special dinner di Dymens Hotel diiringi live music (jika tersedia), Check in hotel
Day 3 : BUKITTINGGI CITY TOUR – PADANG (MS)
Sarapan dan check out hotel

Singgah di Ummi Aufa Hakim untuk belanja keripik khas Bukittinggi

 City Tour Bukittinggi mengunjungi Taman Panorama Ngarai Sianok dan Lobang Jepang (additional local guide)

Mengunjungi Pasar atas dan Jam Gadang

Makan siang di Nasi Kapau di Uni Cah

 Menuju Koto Baru untuk mencicipi Kue Bika (personal)

Transfer menuju Airport

Tour selesai (Jika Pesawat malam)
Paket Termasuk :
Transportasi  yang nyaman (AC/VCD/DVD)
Makan sesuai program 2x sarapan, 3x makan siang, 1x makan malam
1x special dinner with Live Music
Jus untuk setiap makan siang
Welcome Songket scarf
Air Mineral/botol/pax/hari
Tiket masuk objek (pintu gerbang utama)
Asuransi
Pemandu wisata
Paket outbound includes :

Area kegiatan
Kegiatan dan proses karakter building
Instruktur
Perlengkapan kegiatan
Wireless sound system
Team outbound
Crew
Paket tidak termasuk :
Tiket pesawat
Keperluan pribadi
Tipping Driver & Guide
Optional tour
Cultural Show
pemakaian baju adat minangkabau
Drone / Dokumentasi
Local Guide Lobang Jepang dan pagaruyung