4D3N BUKITTINGGI PADANG PACKAGE (2N BUKITTINGGI 1N PADANG)
Rendang, Nasi Kapau, Sate and Keripik is some of many culinaries you can try in Bukittinggi and Padang and it will pampered your tongue
---
DAY 01 : AIRPORT – BUKITTINGGI (-/L/D)
Upon arrival at Minangkabau International Airport, you will be meeting and be greeting with welcome scarf songket from our tour representative. Continues to Bukittinggi via Puncak Kiambang popular with 1000 coconut tree, photostop at ANAI WATERFALL and Minangkabau Village (PDIKM).  Lunch at local restaurant. There will be another brief stop at PANDAI SIKEK. This village is famous for weaving and wood-carving. Upon arrival in Bukittinggi, check in hotel  for overnight stay. Dinner at the local restaurant.
DAY 02: MINANGKABAU TOUR (B/L/D)
After breakfast, early morning proceed to PAYAKUMBUH visiting Harau Dream Park, KAMPOENG EROPA. You can take a photo by hanging bicycle (personal). After that, visiting the local home industry KINIKO that famous with Pisang Salai and the traditional coffee milling. Lunch at the local restaurant which is surrounded by the magnificent rice/paddy field with the specific menu ikan bakar. Visiting PAGARUYUNG KING PALACE and SILINDUANG BULAN KING PALACE then drives back toBukittinggi. Stop at Kampung Baso to see how to embroidery and shopping some embroidery at HJ.ROSMA EMBROIDERY. Shopping some souvenirs at NEW PASAR ATAS BUKITTINGGI  and NEW JAM GADANG area. Dinner will be provided at the local restaurant.
DAY 03: CITY TOUR – MANINJAU TOUR – PADANG (B/L/D)
Breakfast and check out hotel, city tour Bukittinggi by visiting TAMAN PANORAMA NGARAI SIANOK and JAPANESE TUNNEL (additional local guide), you will be take a trip to Maninjau city via  Nagari Sungai Landia, photostop at RELAY LAWANG PARK with direct view to the beautiful MANINJAU LAKE. Lunch at local restaurant. After lunch at local restaurant, continues to Padang for city tour by visiting : MESJID RAYA SUMATERA BARAT, CHINATOWN, SITI NURBAYA BRIDGE and PADANG BEACH. Dinner at pondok ikan bakar at Khatib Sulaiman and check in hotel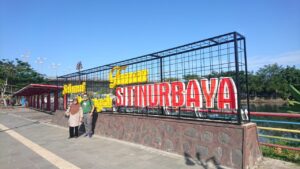 DAY 04: PADANG – AIRPORT (B/-/-)
After breakfast and check out hotel. Drives to Padang, stop at Koto Baru to taste Kue Bika or Lempeng Neraka. Visiting AIR MANIS BEACH (MALIN KUNDANG STATUE), you can ride ATV to look arround the small islands. Then, transfer to the airport. (Notes For evening flight)

Tour includes

 :
Transportation ( AC/DVD/Sound system)
Hotel  2n Bukittinggi and 1 n Padang as chosen (Twin / Triple Share)
Welcome Scarf Songket
Meals  : 3 x daily breakfast, 3 x lunch, 3 x dinner
Entrance fee
Driver cum Guide (Profesional guide for 10 Pax – up )

Mineral water
Tour excludes

:
Flight ticket,airport tax
Personal Expenses (Laundry, Telephone, Mini bar)
Tipping (recommended)

Additional Tour

Local guide Lobang Jepang & Pagaruyung
---
---
4D3N BUKITTINGGI PADANG TOUR
DAY 01 : AIRPORT – BUKITTINGGI (-/MS/MM)
Sampai di Bandara Internasional Minangkabau di sambut oleh tour kami  yang ramah dengan Welcome Scarf Songket khas Minangkabau.

Tour diawali dengan menuju Bukittinggi melalui PUNCAK KIAMBANG.

Photostop di Tugu Luhak nan Tuo, Tanah Datar.

Berhenti di Air Terjun LEMBAH ANAI menikmati air pegunungan yang bening dan jernih.

Mengunjungi Pusat Informasi Minangkabau PDIKM (Minang Village).

Makan siang di Restoran Pak Datuak atau Sate Mak Syukur khas Padang Panjang.

Melanjutkan Perjalanan ke PANDAI SIKEK yang terkenal akan kerajinan tangan berupa tenun atau songket dan ukiran kayu.

Check in hotel.

Makan malam di lokal restoran.
DAY 02:  LEMBAH HARAU – MINANGKABAU TOUR (S/MS/MM)
Sarapan pagi di hotel.

Menuju Payakumbuh untuk mengunjungi HARAU DREAM PARK/ KAMPOENG EROPA.

Dalam perjalanan menuju Batusangkar melalui DESA TABEK PATAH.

Singgah di Kopi KINIKO untuk melihat proses pembuatan Pisang Salai dan pengolahan Kopi dengan cara tradisional.

Makan siang di restoran lokal.

Mengunjungi ISTANA RAJA PAGARUYUNG dan ISTANA SILINDUANG BULAN pusat pemerintahan kerajaan Minangkabau zaman dahulu.

Kembali ke Bukittinggi.

Berhenti di SULAMAN HJ.ROSMA untuk melihat proses pembuatan kain sulam.

Sampai di Bukittinggi, shopping di NEW PASAR ATAS dan JAM GADANG.

Makan malam di restoran lokal.

Kembali ke hotel.
DAY 03 : CITY TOUR – MANINJAU TOUR – PADANG (S/MS/MM)
Sarapan pagi dan check out hotel.

City tour Bukittinggi mengunjungi: PANORAMA NGARAI SIANOK dan LOBANG JEPANG (additional local guide).

Menuju Maninjau melewati PERKAMPUNGAN SUNGAI LANDIA.

Photo stop di AMBUN PAGI dan Relay PUNCAK LAWANG,disana kita bisa melihat DANAU MANINJAU yang luas dari ketinggian.

Makan siang di restoran lokal.

Melanjutkan perjalanan ke Kota Padang.

City our : MESJID RAYA SUMATERA BARAT, CHINATOWN, JEMBATAN SITI NURBAYA dan PANTAI PADANG.

Makan malam di Pondok Ikan Bakar Tepi Pantai.

Check in hotel.
DAY 04 : PADANG CITY TOUR– AIRPORT (S/-/-)
Sarapan pagi, check out hotel.

Mengunjungi PANTAI AIR MANIS (Batu Malin Kundang) mengendarai ATV untuk mengelilingi pulau-pulau kecil disana (personal).

Transfer out bandara (jika pesawat sore).
Paket termasuk

:
Transportasi yang bersih dan nyaman (AC/VCD/DVD)
Hotel 2 n Bukittinggi , 1 n Padang 

  (twin/triple sharing)

Welcome Scarf Songket
Makan sesuai program : 3 x sarapan pagi, 3 x makan siang, 3 x makan malam
Air Mineral
Tiket masuk objek

Pemandu wisata(10 pax – up)
Paket tidak termasuk

:
Tiket pesawat
Keperluan pribadi
Tipping (recommended)

Optional tour

Lokal guide Lobang Jepang & Pagaruyung